Save Time and Money with VIPUTRANS, Ship from China to USA FBA Warehouse Fast&Accurately. Freight Forward delivery to USA FBA Warehouse from China Fast & Accurately with Transparent Rates.FBA to the USA by express; FBA to the USA by air freight; FBA to the USA by sea freight.
China to USA FBA shipping
No Minimum Order Fee!
No Hidden Fees!
No Job Is Too Small!

Shipping from China to

US

Amazon FBA
Save Time and Money with VIPUTRANS, Ship from China to USA FBA Warehouse Fast&Accurately. Freight Forward delivery to USA FBA Warehouse from China Fast & Accurately with Transparent Rates.FBA to the USA by express; FBA to the USA by air freight; FBA to the USA by sea freight.
VIPUTRANS has a dedicated team with extensive knowledge and experience of Fba Delivery. Fba fulfillment suppliers ship your goods to the US, Canada, Europe, Japan, Australia, UK, Southern America, and more by sea, air, and rail door to door. VIPUTRANS handle your shipping cargo safely and promptly at the most competitive prices.
What makes us different?
FBA Freight Provider – Shipping From China To Amazon FBA

• Door to door shipping to Amazon FBA, Personal address, and overseas warehouse by sea freight, air freight, express from China with competitive price and stable space.
• Online cargo tracking.
• VIPUTRANS Collect goods from different suppliers and consolidate them in a warehouse for one shipment output.
• Value-added services include packing, repacking, labeling, palletize, label stick, quality inspection, kits assembly.
• Customs declaration on both sides, prepare demanded export&import declaration document.
• Paying customs on Amazon Shipments
• Fast Transit times
FBA to USA Amazon from China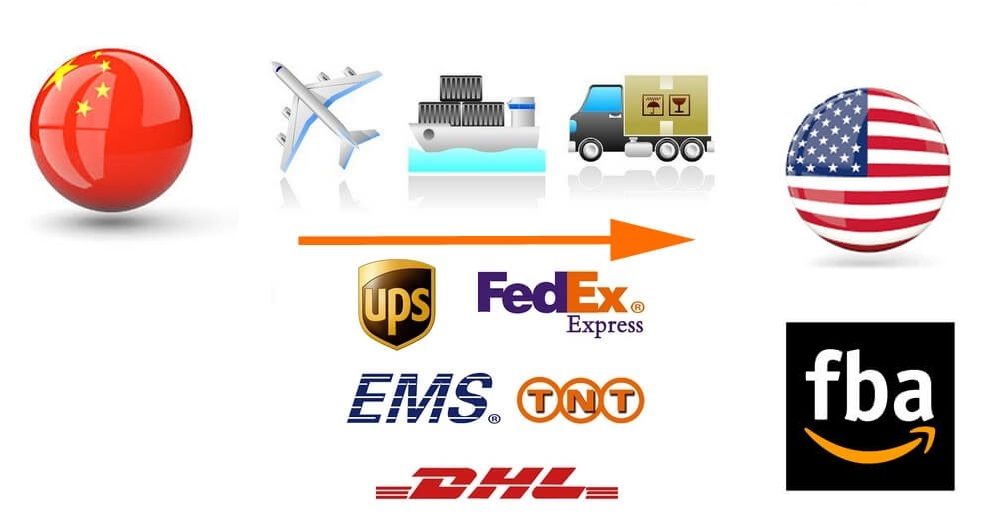 Shipping From China to FBA USA: Step-by-Step
Step 1: Choose Direct or Indirect Shipping to Amazon
Decide by what route you will get your products from China to the US fulfillment centers. For example, will you ship directly from the supplier in China to Amazon's warehouses, send your products to an intermediary logistics partner for packaging, labeling, and other compliance processes, or receive them from China yourself in the USA, before packing, preparing, and dispatching them to FBA USA?
Step 2: Decide on the Shipping Mode
Decide what mode of transportation you will use for your shipment.
Express Shipping: For smaller quantities of goods, you might be able to use express shipping, which is essentially courier transportation. While this is the simplest way to ship products from China to Amazon's FBA fulfillment centers, it can be very costly. On the other hand, it does make for straightforward customs clearance, and if the value of your shipments is less than $800, they will not incur US customs duties.
Air Freight: If your shipments are likely to weigh between 50 and 100 kg, you could opt to move them from China to the United States using air freight. Shipping costs for air freight can be significant, although not as expensive as express shipping, and of course, you have the advantage of short transit times if that is important to your logistics strategy.
sea freight for LCL shipment and full container shipment to USA FBA warehouse, it will cost down much for big volume cargo from China, but it takes more trainst time.
Step 3: Establish Incoterms
Determine the division of shipping responsibilities between you and your supplier. when shipping from China to the United States, buying under the Free On Board (FOB) incoterm is typically the safest and most straightforward option.
FOB means that domestic transportation in China, from the supplier's premises to the port or airport of loading, and the cost and responsibilities of export customs clearance, are borne by the supplier, who will, of course, account for the expense when quoting you a purchase price for your products.
As a comparison, the ex-works (EXW) incoterm stipulates that you will bear all costs and responsibilities for shipping and transportation. Under this arrangement, your supplier's price will be for the products only, and you will need to arrange for domestic transportation in China and the management of export customs clearance.
Step 4: Reach Out for Freight Quotes
Obtain freight quotes and compare them.
Most FBA users understandably prefer to seek quotes from freight forwarders to reduce complexity. A freight forwarder will make all the necessary arrangements for door-to-door shipping from China through to the FBA warehouse, and provide you with a quote inclusive of all known fees, thereby cutting the time and effort involved in obtaining and evaluating freight quotes.
Step 5 Know Your Product HS Codes
Before any carrier or forwarder can provide you with a freight quote, you will need to give them sufficient information to enable them to calculate prices. In addition to this information, you should also be prepared to supply the carriers or forwarders with certificates of origin for your products.
Step 6: Get Your Shipment Moving
Instruct the carriers or freight forwarders that you choose to manage your shipment. Unless you have opted to ship directly from your supplier to Amazon, your freight will come either to your business premises or the intermediary responsible for FBA preparation.
Step 7: Import Customs Clearance
For the formal declaration process, you will need to work with a customs broker to obtain your bond and file your declaration. When using ocean freight, declarations should be submitted a few days (up to five) before your shipment arrives at a US port. For air freight, they can be filed after the aircraft carrying your goods takes off from the airport of loading.
Shortly after your freight forwarder or customs broker has filed your declaration, the CBP will notify you either that it has cleared your shipment, or that it will hold it for examination at the port or airport of discharge. At this point, your broker will pay taxes and duties for the shipment on your behalf.
Step 8: Domestic Transportation in the US
After your shipment has been offloaded from the ship or aircraft and released, it can be transported onward to your business premises in the United States, to the premises of an intermediary, or directly to your assigned Amazon FBA fulfillment center(s).
If you are shipping directly to fulfillment centers, you will need to trust your Chinese supplier to have prepared your goods according to Amazon FBA requirements. Otherwise, when your shipment arrives with you or your intermediary, it will be time to move onto Step 8—preparation for delivery to Amazon.
Step 9: Preparation for Amazon FBA
This step is where many first-time international FBA shippers tend to get things wrong. Amazon's specifications for packaging and labeling are quite exacting and if not complied with, can lead to your shipment being turned away.
In practice, your carrier will arrange the delivery appointment, but will first need some information from you. You can provide that information by completing an Appointment Request Form, available as a download directly from Amazon Seller Central. It's critical to be aware that your chosen carrier must be one that Amazon recognizes and approves. If you fail to use an approved carrier, Amazon will not accept your delivery.
Step 10: Onward to Amazon
Step 9 is the final leg of your Amazon FBA shipment, during which your goods will be dispatched from your business premises or those of your intermediary, transported to the assigned Amazon fulfillment center(s), and received into the FBA warehousing system. This step should be straightforward, so long as you have met all the requirements stipulated by Amazon.
Working with a reputable is the easiest, safest, and most cost-effective way to ship your goods from China to Amazon FBA directly.